WANTED
Partners wanted around

the world with local

knowledge of thermal

oxidisers to develop our

expanding network.

Please contact us.
We have buyers for a used
15,000 scfm and a used
20,000 scfm RTO.
If you have one available
please contact us.
Featured businesses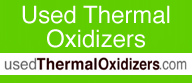 Free Service: We'll Help You Sort Through The Maze of New and Used Thermal and Catalytic Oxidizers to Find the Equipment You Need at the Best Price...
Give Us a Call at 866-707-0530 or e-mail us at Service@UsedThermalOxidizers.com

Design and manufacture of VOC concentrators for oxidisation or recovery of Volatile Organic Compounds.